Coffee Sustainability Tour
May 26, 2018 to Jun 1, 2018 - at 12:00 AM
Show more >>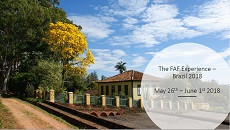 Fazenda Ambiental Fortaleza and FAF Coffees, in partnership with Linea Caffe in San Francisco are proud to supply coffee for the Google Campus.

We would like to invite you to learn more about the influence you can have on the lives of the farmers and traders that supply you.
Discover how you can contribute to the challenge of creating good sustainable farming.
For more information check out this link:
http://drive.google.com/open?id=1uTahMgOk0bV-64a4yNkRAnnAgB64XmAc